King Charles III Coronation BIG LUNCH!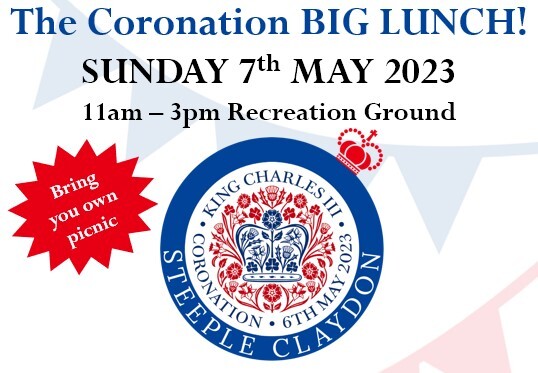 King Charles III Coronation BIG LUNCH!
Sunday 07 May 2023
11:00 to 15:00
Steeple Claydon Kings Coronation BIG LUNCH celebration at the recreation ground on Sunday 7th May this year.
Steeple Claydon Parish Council are providing Bouncy Castles, face painting, sound system and an accessible toilet for free there will also be a small bar raising money for a local organisation.
We have prizes for Best Dressed Gazebo/Picnic Blanket and Fancy Dress. This is not a fete, there will be no arena or commercial sellers on site.
We would however like to give local groups, organisations & charity's the opportunity to raise money and awareness for themselves. This could be by selling ice creams, BBQ, sweet's, cake's, games, anything really.
Please let us know if you are interested in attending and what you might like to do.